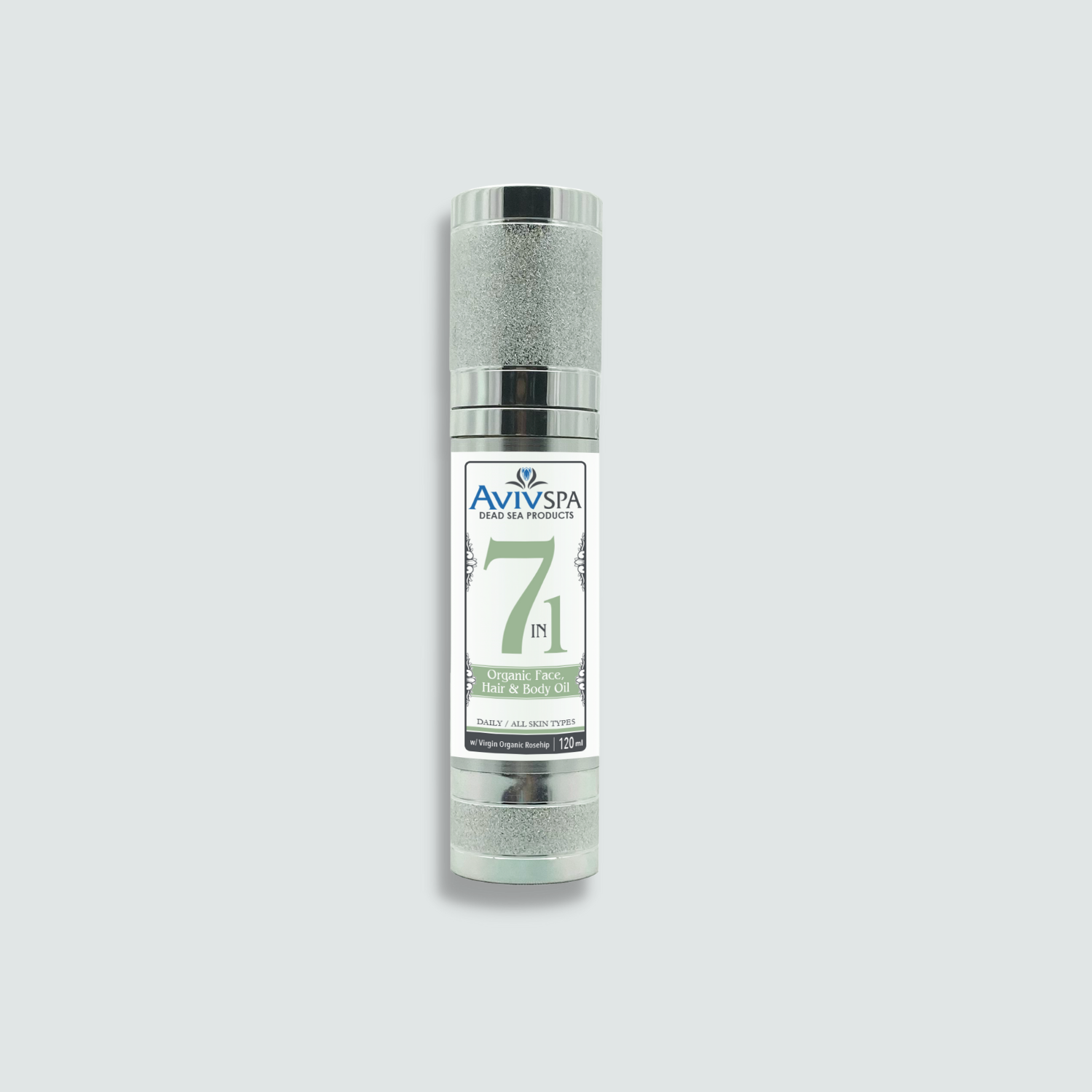 7 in 1 Organic Face, Hair & Body Oil
DESCRIPTION
Uses:
Face Cleansing Oil
Face, Neck and Décolleté Hydrater
Cuticle Oil
Body Moisturizer
Hair, Scalp, Eyelash & Eyebrow Nourishing Treatment
Massage Oil
Shaving/Beard Oil


Directions:
Face: Apply 2-3 drops on a soft cloth and gently wipe off makeup, dirt, and debris. Follow with Toner, Serum & Creme. Apply 2-3 drops to the face, neck, and décolleté as needed for added moisture and a soft dewy look. Works great as a makeup primer, too!

Cuticles: Apply one drop per cuticle prior to bedtime. Rub in and let the softening begin! To have an aromatherapy treatment, apply oil in the palm of the hand, add 1-2 drops of our Lavender Lovers Essential Oil Blend and apply to cuticles. 

Body: Apply to the entire body after a refreshing shower or Bath. Add a few drops to bathwater if so desired. Be aware of slipperiness in the tub.

Hair & Scalp - Use our N-Credible! Shampoo to wash hair. Apply a generous amount of oil to the scalp, work in with fingertips. Apply more to the hair shaft and ends. Cover with a shower cap, Apply heating cap for 30-45 minutes. Shampoo twice. Follow with a dime size of our N-Credible! Cleansing Conditioner. Rinse with cool water to close pores and hair shaft. Style as usual. 
Eyelash & Eyebrows - apply a few drops on a cotton swab and apply to the root of eyelashes and eyebrows prior to bedtime.

Massage - Apply 5-8 drops in the palm of the hand. Rub hands vigorously together to heat oil. Apply to the body in a vigorous circular motion. Repeat on all areas of the body. Add aromatherapy to the experience by adding 2-3 drops of our Lavender Lovers EO Blend or other EO Blends.

Shaving - Apply a generous amount to the face, arms or legs. Use a clean razor and remove hair from area. Apply more oil as needed
Beards - apply small amount to palm of hand, rub hands together then gently apply to ends of beard. 

Ingredients: VIRGIN ORGANIC HEMPSEED OIL, VIRGIN ORGANIC ARGAN OIL,  VIRGIN ORGANIC ROSEHIP OIL,  VIRGIN ORGANIC AVOCADO OIL, VIRGIN ORGANIC HIGH OLEIC SUNFLOWER OI, EXTRA VIRGIN ORGANIC OLIVE OIL, VIRGIN ORGANIC TAMANU OIL, ORGANIC GOLDEN JOJOBA OIL,  ORGANIC PRICKLY PEAR OIL, AND ORGANIC PUMPKIN SEED OIL

ADDITIONAL INFORMATION
My mission is to help you - 'Rest Assured' that you are investing in personal care products that are Safe, Effective and Non-Toxic. Our products help with your skin-confidence as well as current and future health and well-being.
My philosophy is: 'What goes ON your body goes IN your body'! After all, it's a fact - Your skin is your largest organ.

'Discover the Aviv Difference!'™ for yourself, family, friends + our planet.
Take care of the Temple God has blessed you with. Don't Settle for Mediocre - Invest in The BEST! You ARE a Priceless Treasure.
Nurture Your Skin, Nurture Your Life
The Aviv Philosophy
We believe your personal care products should contain natural, sustainable, body and earth-friendly ingredients that allow you to maintain a youthful appearance at every stage of life. 
I have used products from Aviv Spa for several years now and every product I add to my repertoire has been fantastic! I have used everything from the concrete feet to the Lavender Lovers High Magnesium Oil, which is my current favorite(it's getting rid of my under eye bags). The products are fantastic and I am always confident that they will not harm me or our environment in any way.
Shipping
Yes, we ship all over the world. Shipping costs will apply, and will be added at checkout. We run discounts and promotions all year, so stay tuned for exclusive deals.
It depends on where you are. Orders processed here will take 5-7 business days to arrive. Overseas deliveries can take anywhere from 7-16 days. Delivery details will be provided in your confirmation email.
Product
You can contact us through our contact page! We will be happy to assist you.