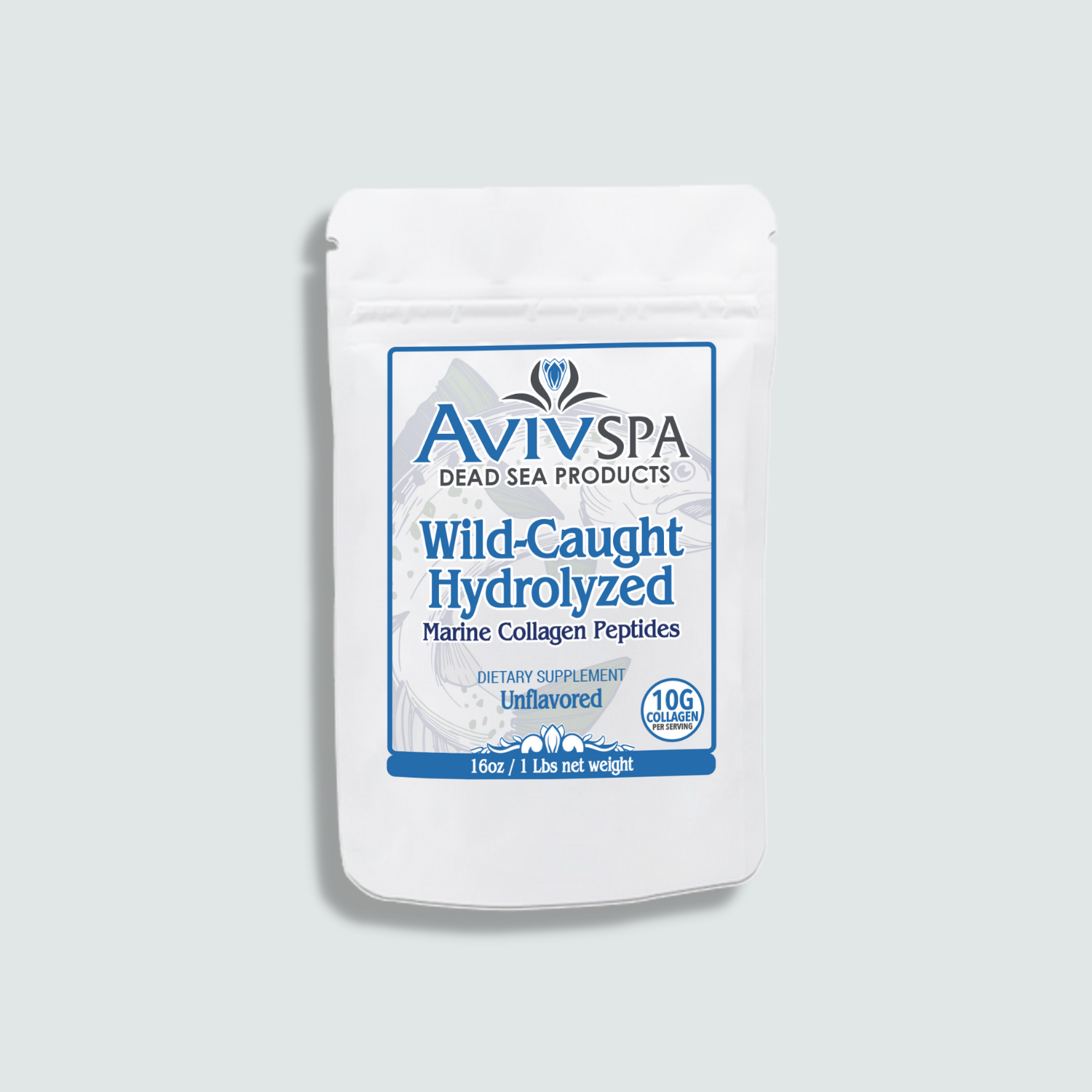 Wild-Caught Hydrolyzed Marine Collagen Peptides UNFLAVORED
DESCRIPTION
Wild-Caught Hydrolyzed Marine Collagen Peptides - UNFLAVORED
Dietary Supplement
Size: 16oz (1lbs net weight)
Collagen is the most abundant protein in the body. Unfortunately, you start to lose 1% collagen production every year after the age of 21.
Lack of collagen in the body can cause loss of elastin in the skin, hair thinning, thin or brittle nails, and joint pain.

Taking wild-caught marine collagen peptides as a supplement can help boost the collagen in the body to help with these issues!.
As soon as marine collagen peptides are consumed they are broken down into amino acids by our digestive tract. The body distributes these amino acids where they are needed the most at that time. 
We choose wild-caught marine collagen peptides because fish aren't exposed to things like antibiotics, or hormones. Plus fish are exempt from the 18 diseases cattle/herds can contract, which end up being stored in your body.
Benefits of Collagen:
1) Improve skin elasticity 
2) Relieve joint pain and discomfort
3) Increase muscle mass
4) Prevent bone loss
5) Promotes healing
6) Heart health
7) Better quality sleep
8) Improved hair quality
9) Healthier Nails
10) Fights free radicals 
11) Contains 18 health-beneficial amino acids that aid with stress reduction and calcium absorption
What are the characteristics of collagen loss?
1) Aging Skin
2) Dry, Sagging Skin
3) Excessive wrinkles
4) Brittle nails
5) Bones break easily
6) No 'bounce-back' in the skin
7) Joint pain
What causes collagen loss?
1) Aging process
2) Smoking/vaping
3) Processed foods
4) Sugar consumption
5) Sun exposure
6) Alcohol 
7) Poor diet
8) Dehydration
Ways to Take our Wild-Caught Marine Collagen Peptides:
1) Smoothie Shaker Cup
2) Hot Coffee, Cocoa, or Tea - use an electric Frother for the best blending
3) Put in a blender with fresh fruit and veggies
4) Add to hot soups, eggs, amaranth, quinoa, oatmeal, and more!
5) Hot broth 
6) Warm milk
7) Protein shakes
8) Yogurt, cottage cheese, apple sauce
9) Bake it into breads and muffins
Directions:
We recommend using 2-4 scoops per day. Excellent source of pure protein without gums, cellulose, or maltodextrin.
Ingredients:
Wild-caught Hydrolyzed Marine Collagen Peptides from pristine Pacific Ocean waters (Cod, Haddock, Pollock)
ADDITIONAL INFORMATION
My mission is to help you - 'Rest Assured' that you are investing in personal care products that are Safe, Effective and Non-Toxic. Our products help with your skin-confidence as well as current and future health and well-being.
My philosophy is: 'What goes ON your body goes IN your body'! After all, it's a fact - Your skin is your largest organ.

'Discover the Aviv Difference!'™ for yourself, family, friends + our planet.
Take care of the Temple God has blessed you with. Don't Settle for Mediocre - Invest in The BEST! You ARE a Priceless Treasure.
Nurture Your Skin, Nurture Your Life
The Aviv Philosophy
We believe your personal care products should contain natural, sustainable, body and earth-friendly ingredients that allow you to maintain a youthful appearance at every stage of life. 
I have used products from Aviv Spa for several years now and every product I add to my repertoire has been fantastic! I have used everything from the concrete feet to the Lavender Lovers High Magnesium Oil, which is my current favorite(it's getting rid of my under eye bags). The products are fantastic and I am always confident that they will not harm me or our environment in any way.
Shipping
Yes, we ship all over the world. Shipping costs will apply, and will be added at checkout. We run discounts and promotions all year, so stay tuned for exclusive deals.
It depends on where you are. Orders processed here will take 5-7 business days to arrive. Overseas deliveries can take anywhere from 7-16 days. Delivery details will be provided in your confirmation email.
Product
You can contact us through our contact page! We will be happy to assist you.