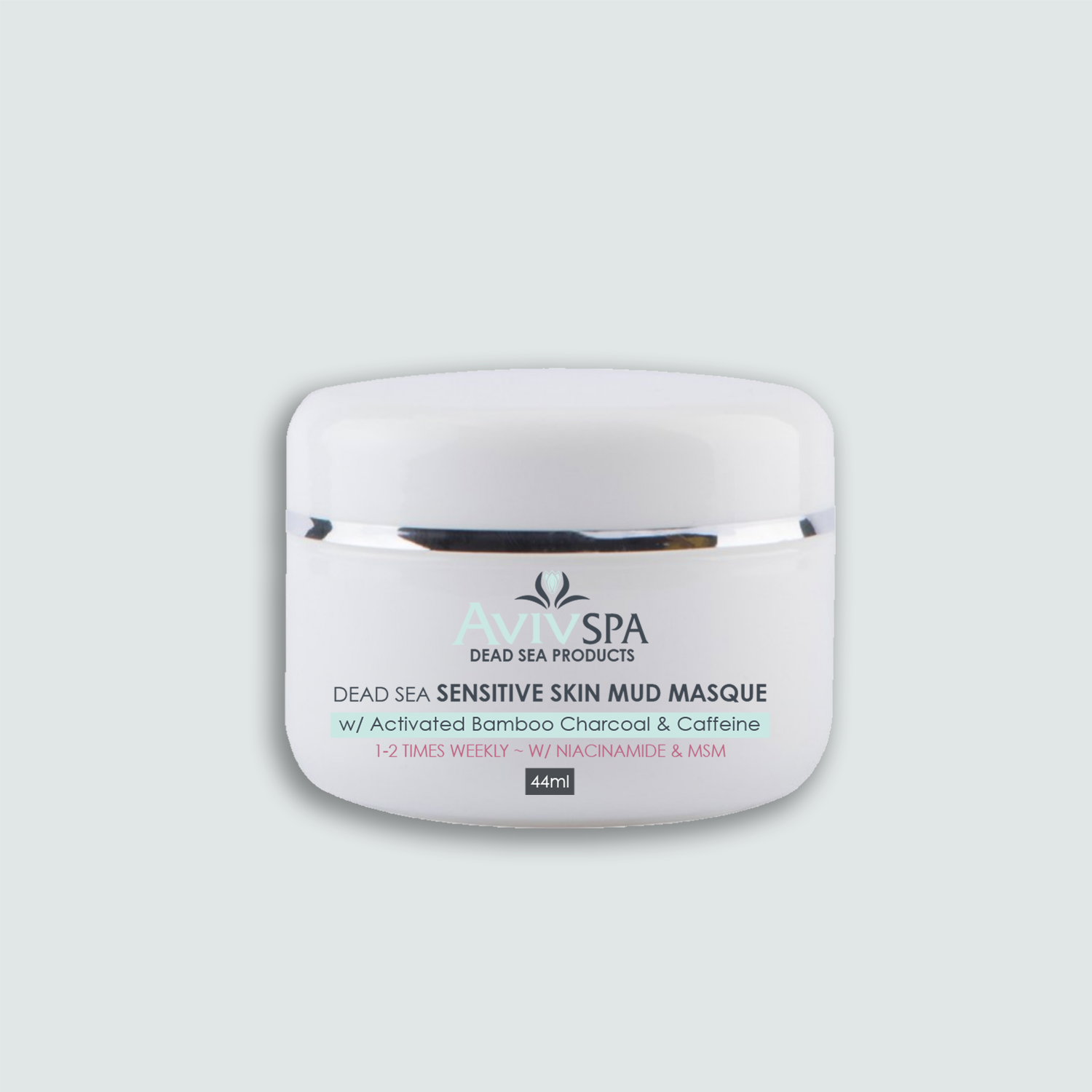 Sensitive Skin Mud Masque w/ Bamboo Activated Charcoal & Caffeine
DESCRIPTION
STEP 3 – Dead Sea Sensitive Skin Mud Masque w/ Bamboo Activated Charcoal & Caffeine

Sizes available: 44ml/148ml / 600ml

If you've been searching 'The REAL Deal' in a Dead Sea Mud Mask, you're in the Right Place! Our exclusive formula blends numerous skin beneficial ingredients without the use of toxic chemicals and ineffective fillers. Benefits range from the lightening of age spots, minimizing the appearance of Rosacea, fine lines and crow's feet to the reduction in the size of large pores and acne scars.

This particular mask has been being tested on a daily basis since 2010 by our company's founder and formulator Tammy Doering. Her personal finding is that this mask could very well be 'The Fountain of Youth'! At age 52 in 2015, her face feels as soft as velvet and has an amazing Mineral Aura about it.

Note: This mask can be customized for various skin needs using our signature Essential Oil Blendz™


Directions: Cleanse treatment area with Mineral Facial Wash. Pat skin dry. Apply masque with Boar's Hair Fan Brush found in Kit. Allow to dry. Rinse with warm water then cool to close pores. Follow with our Hydrating Botanical Toner, Max-Tox Serum & Mud Lite II Mineral Crème. Enjoy your Youthful Appearance!
Note: Product may feel tingly + thermal on some skin types.
Ingredients: UNSCENTED & SIFTED DEAD SEA MUD, BALNEO PEAT, CAFFEINE, DEAD SEA CLAY, DEAD SEA EXTRACTS (HIGH MAGNESIUM DEAD SEA BRINE W/**ORGANIC OLIVE LEAF, **LAVENDER, **GREEN TEA, **CHAMOMILE, **CORNFLOWER, **HELICHRYSUM, **CALENDULA, **COMFREY LEAF & ROOT, **ROSEMARY, **WITCH HAZEL, WILD-HARVESTED RED ROSES & NEEM LEAF) LACTOBACILLUS FERMENT (PROBIOTICS), LACTOBACILLUS (PROBIOTICS), COCONUT FRUIT EXTRACT (PROBIOTICS), BAMBOO ACTIVATED CHARCOAL, MSM, D-PANTHENOL, DEAD SEA MAGNESIUM CHLORIDE, ALLANTOIN, HYDROLYZED MARINE COLLAGEN PEPTIDES, NIACINAMIDE, ALOE VERA POWDER, HYALURONIC ACID.     *VIRGIN ORGANIC   **ORGANIC
ADDITIONAL INFORMATION
My mission is to help you - 'Rest Assured' that you are investing in personal care products that are Safe, Effective and Non-Toxic. Our products help with your skin-confidence as well as current and future health and well-being.
My philosophy is: 'What goes ON your body goes IN your body'! After all, it's a fact - Your skin is your largest organ.

'Discover the Aviv Difference!'™ for yourself, family, friends + our planet.
Take care of the Temple God has blessed you with. Don't Settle for Mediocre - Invest in The BEST! You ARE a Priceless Treasure.
Nurture Your Skin, Nurture Your Life
The Aviv Philosophy
We believe your personal care products should contain natural, sustainable, body and earth-friendly ingredients that allow you to maintain a youthful appearance at every stage of life. 
I have used products from Aviv Spa for several years now and every product I add to my repertoire has been fantastic! I have used everything from the concrete feet to the Lavender Lovers High Magnesium Oil, which is my current favorite(it's getting rid of my under eye bags). The products are fantastic and I am always confident that they will not harm me or our environment in any way.
Shipping
Yes, we ship all over the world. Shipping costs will apply, and will be added at checkout. We run discounts and promotions all year, so stay tuned for exclusive deals.
It depends on where you are. Orders processed here will take 5-7 business days to arrive. Overseas deliveries can take anywhere from 7-16 days. Delivery details will be provided in your confirmation email.
Product
You can contact us through our contact page! We will be happy to assist you.