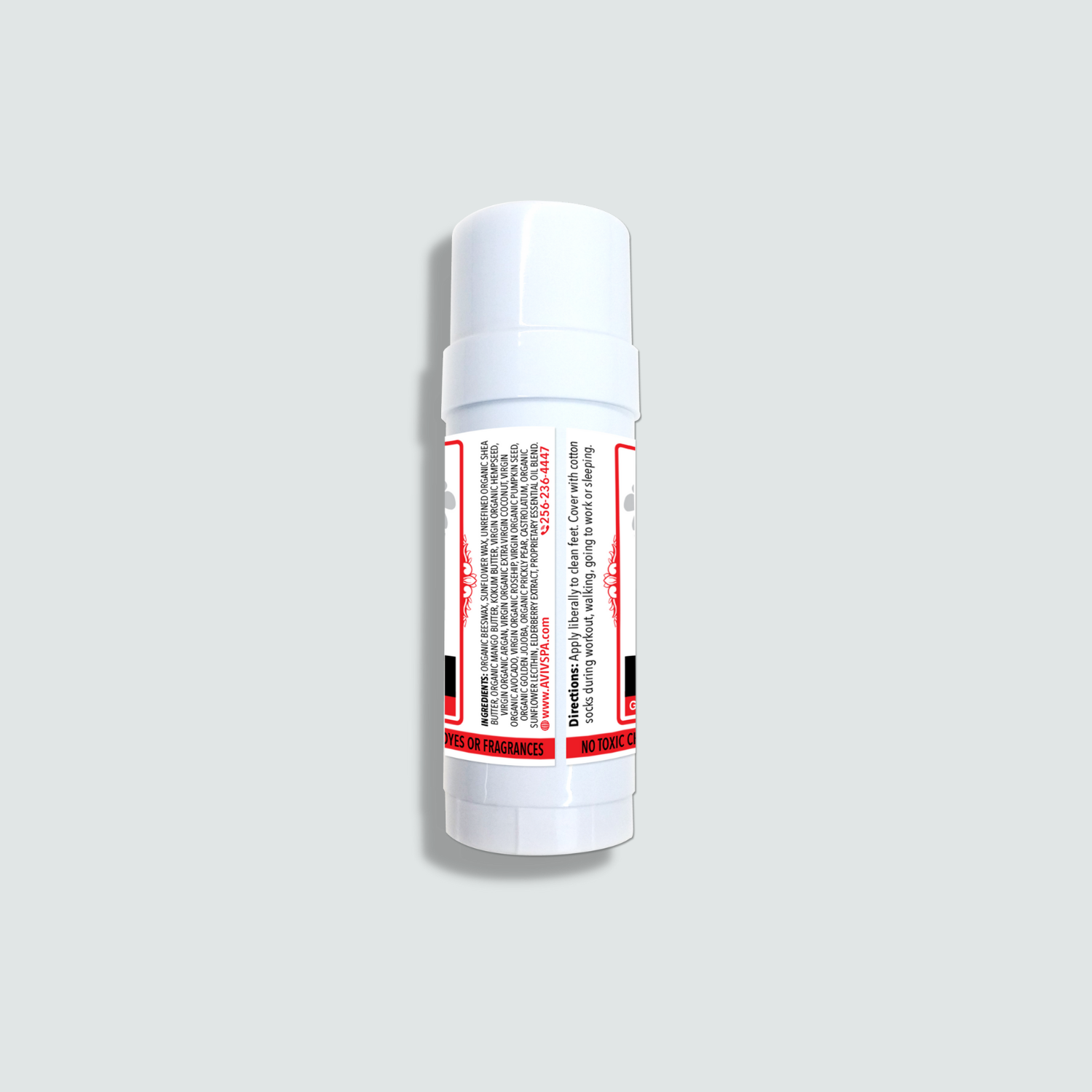 Concrete Feet First Aid Stick
DESCRIPTION
Do your feet suffer from ANY of the following:
•Hard, Thick Calluses
•Flaking, Peeling or Cracking
•Rough 'Sand Paper' Areas
•Are they 'Godizilla Like'
IN JUST 2 WEEKS!
Our Products Are:
• All Natural Ingredients
• Diabetic Safe
• Gluten Free
• Podiatrist Endorsed
• No Parabens
• No Animal Testing
• No Petroleum By-products
• Cruelty Free
• Synthetic Fragrance Free
FACT: Cutting, Scraping or Filing a callus triggers the body to regrow – THICKER!

Our Concrete Feet First Aid Products have been custom formulated by Licensed Manicurist Instructor, Tammy Doering for her own foot issues as well as her clients.

Each product has been designed to Naturally Nourish, Hydrate, Revive & Soften seriously dry skin from the inside out.

This stick is a MUST HAVE if you have dry, cracked, callused and hurting feet! It works with your body heat and is literally effortless to use. Simply apply to clean, dry feet and cover with cotton socks.
This product is so simple to use, if you don't want to do anything, then apply before bedtime and let the stick do it's 'Magic' while you sleep!
Customers That Use This Product Include:
• Men & Women
• Workers that wear steel-toed/close toed boots
• Runners
• Zumba-holics
• Insanity & PiYo Exercisers
• Athletes
• Swimmers
• Young and Elderly

Ingredients list:
KOKUM BUTTER, **ORGANIC UNREFINED SHEA BUTTER, **ORGANIC MANGO BUTTER, *VIRGIN ORGANIC ARGAN, *VIRGIN ORGANIC ROSEHIP, *VIRGIN ORGANIC AVOCADO, *EXTRA VIRIGIN ORGANIC COCONUT OIL, *VIRGIN ORGANIC HEMPSEED OIL, *VIRGIN PUMPKIN SEED, UNBLEACHED SUNFLOWER LECITHIN, CASTROLATUM, **ORGANIC BEESWAX, **ORGANIC GOLDEN JOJOBA, **ORGANIC PRICKLY PEAR OIL, SUNFLOWER WAX, ELDERBERRY EXTRACT, PROPRIETARY ESSENTIAL OIL BLEND. *VIRGIN ORGANIC   **ORGANIC
ADDITIONAL INFORMATION
My mission is to help you - 'Rest Assured' that you are investing in personal care products that are Safe, Effective and Non-Toxic. Our products help with your skin-confidence as well as current and future health and well-being.
My philosophy is: 'What goes ON your body goes IN your body'! After all, it's a fact - Your skin is your largest organ.

'Discover the Aviv Difference!'™ for yourself, family, friends + our planet.
Take care of the Temple God has blessed you with. Don't Settle for Mediocre - Invest in The BEST! You ARE a Priceless Treasure.
Nurture Your Skin, Nurture Your Life
The Aviv Philosophy
We believe your personal care products should contain natural, sustainable, body and earth-friendly ingredients that allow you to maintain a youthful appearance at every stage of life. 
I have used products from Aviv Spa for several years now and every product I add to my repertoire has been fantastic! I have used everything from the concrete feet to the Lavender Lovers High Magnesium Oil, which is my current favorite(it's getting rid of my under eye bags). The products are fantastic and I am always confident that they will not harm me or our environment in any way.
Shipping
Yes, we ship all over the world. Shipping costs will apply, and will be added at checkout. We run discounts and promotions all year, so stay tuned for exclusive deals.
It depends on where you are. Orders processed here will take 5-7 business days to arrive. Overseas deliveries can take anywhere from 7-16 days. Delivery details will be provided in your confirmation email.
Product
You can contact us through our contact page! We will be happy to assist you.