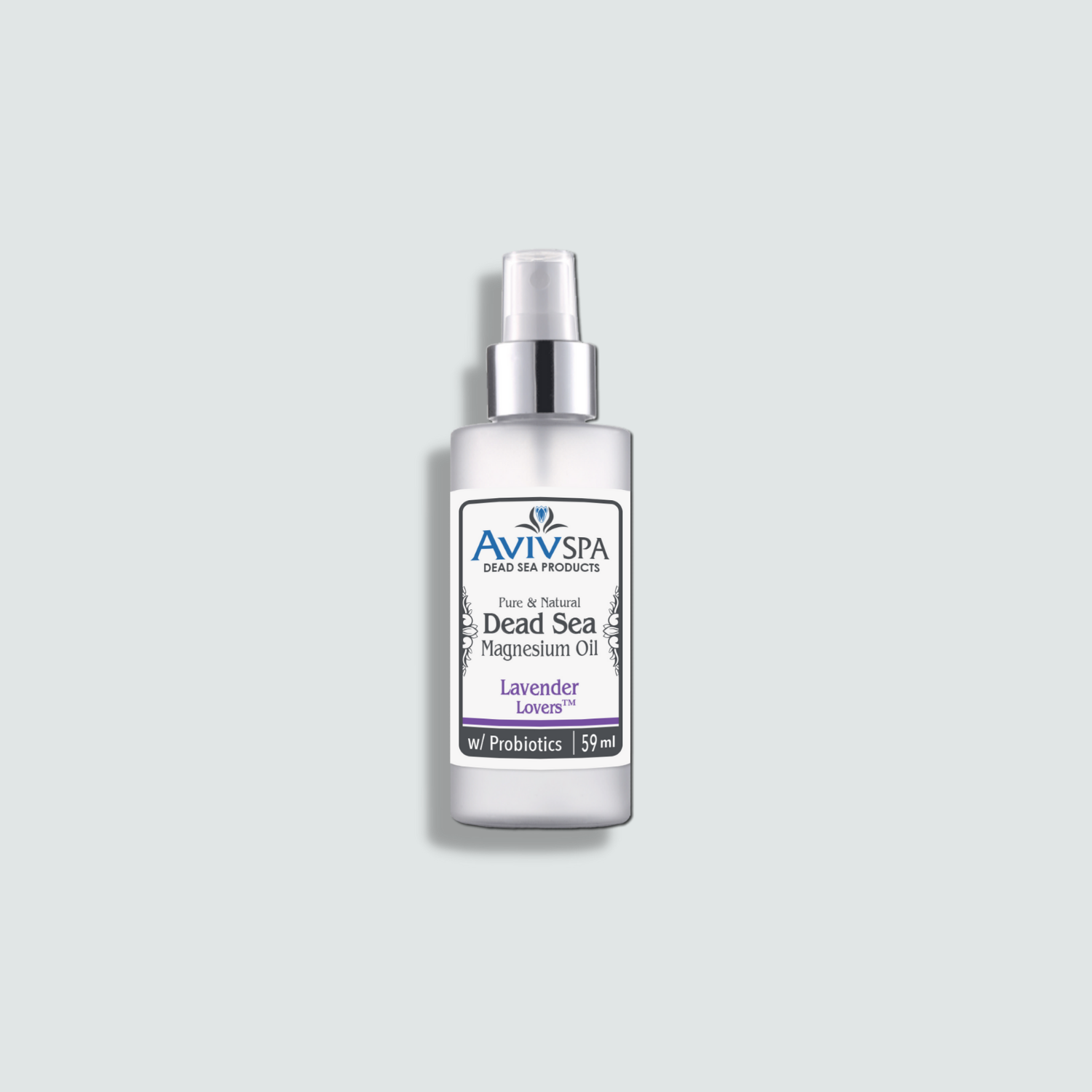 Dead Sea Magnesium Oil Lavender Lovers™
DESCRIPTION
Size: 59ml
Our Lavender Lovers™ Dead Sea Magnesium Oil is truly The BEST Magnesium Oil on planet earth!
Our exclusive formula synergistically blends the highest content of Dead Sea Minerals with 14 - Organic Botanical Herbs, MSM, Aloe Vera, d-Panthenol, Marine Collagen, Hyaluronic Acid and 100% Therapeutic Grade Essential Oils. 
Benefits include:
Lesson Leg Cramps/Restless Leg Syndrome
Reduce Muscle Soreness, Cramps + Pain
Boost Energy Levels
Calm Nerves + Ease Anxiety
Get a Better Night's Sleep
Help Keep Bones Strong + Healthy
This is the purest, most effective + skin friendly Magnesium Oil available on the market today! (We use it Face-2-Feet!)
Since 2001 our company has been a Paraben, Synthetic Dye + Fragrance & Petroleum By-Product Free company.
We're firm believers in, 'What Goes ON your Skin - Goes IN your Skin!'
Cruelty, Gluten & Soy Free, ALWAYS!!!
Directions: Apply small amount of Magnesium Oil in palm of hand. Rub on  legs, calves, arms, back or abdomen. For best results use morning and night. Avoid Eye Contact.
Ingredients: BULGARIAN LAVENDER HYDROSOL, DEAD SESA BRINE, DEAD SEA MAGNESIUM CHLORIDE, MSM, D-PANTHENOL, MARINE COLLAGEN, PROPRIETARY ORGANIC HERBAL BLEND, LACTOBACILLUS FERMENT (PROBIOTIC), LACTOBACILLUS (PROBIOTIC), COCONUT FRUIT EXTRACT (PROBIOTIC), HYALURONIC ACID, PROPRIETARY ESSENTIAL OIL BLEND.

ADDITIONAL INFORMATION
My mission is to help you - 'Rest Assured' that you are investing in personal care products that are Safe, Effective and Non-Toxic. Our products help with your skin-confidence as well as current and future health and well-being.
My philosophy is: 'What goes ON your body goes IN your body'! After all, it's a fact - Your skin is your largest organ.

'Discover the Aviv Difference!'™ for yourself, family, friends + our planet.
Take care of the Temple God has blessed you with. Don't Settle for Mediocre - Invest in The BEST! You ARE a Priceless Treasure.
Nurture Your Skin, Nurture Your Life
The Aviv Philosophy
We believe your personal care products should contain natural, sustainable, body and earth-friendly ingredients that allow you to maintain a youthful appearance at every stage of life. 
I have used products from Aviv Spa for several years now and every product I add to my repertoire has been fantastic! I have used everything from the concrete feet to the Lavender Lovers High Magnesium Oil, which is my current favorite(it's getting rid of my under eye bags). The products are fantastic and I am always confident that they will not harm me or our environment in any way.
Shipping
Yes, we ship all over the world. Shipping costs will apply, and will be added at checkout. We run discounts and promotions all year, so stay tuned for exclusive deals.
It depends on where you are. Orders processed here will take 5-7 business days to arrive. Overseas deliveries can take anywhere from 7-16 days. Delivery details will be provided in your confirmation email.
Product
You can contact us through our contact page! We will be happy to assist you.