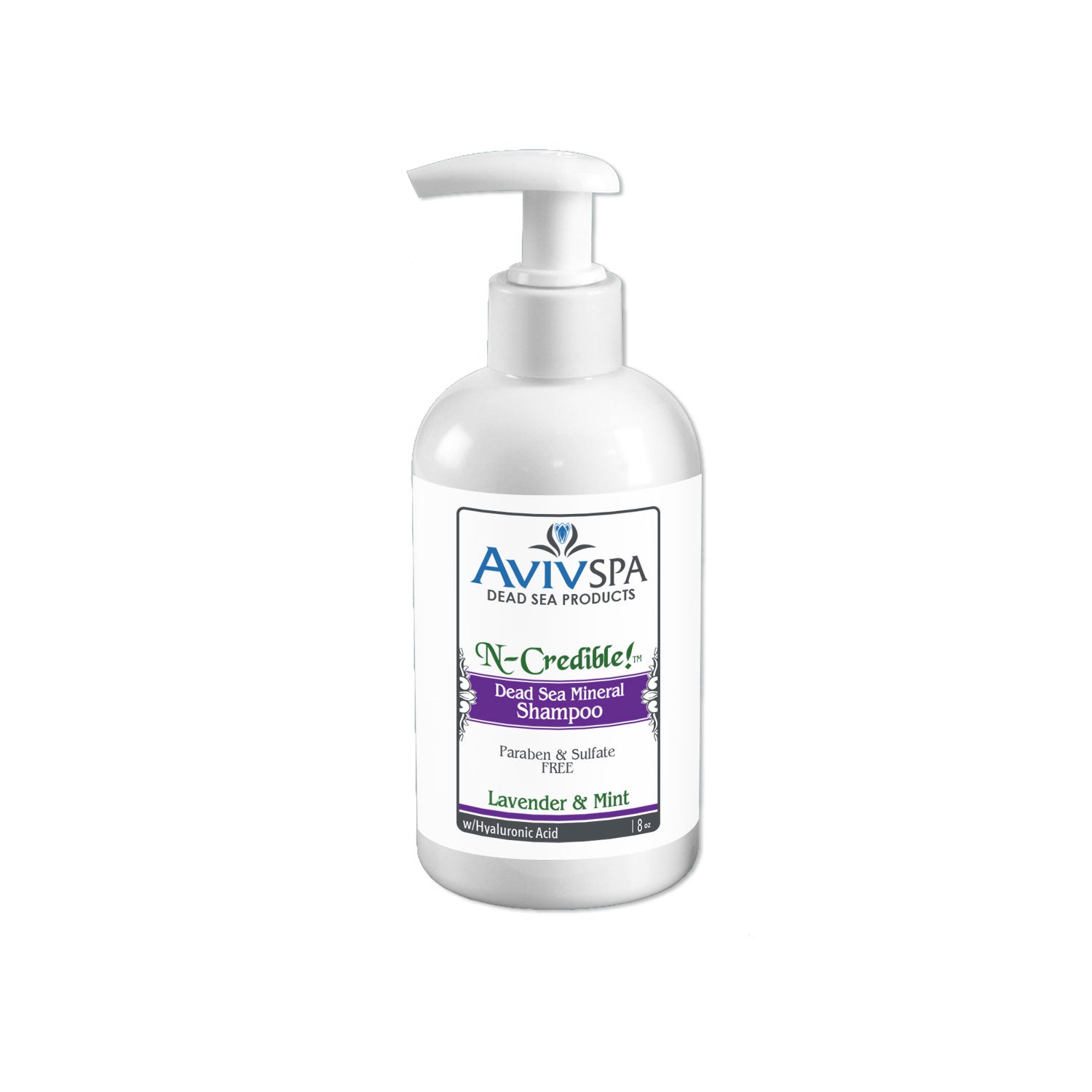 N-Credible! Dead Sea Mineral Hair Shampoo LAVENDER & MINT
DESCRIPTION
If you're looking for an All-Natural Dead Sea Mineral-Rich Shampoo that is SLS & SLES FREE and won't Rip~N~Strip your hair and scalp but get it squeaky clean and manageable, then our  N~Credible!* Dead Sea Mineral Shampoo is for you!

This amazing product contains the mineral power of the Dead Sea blended with over 25 good for your hair & scalp ingredients. This shampoo may be used by all hair types, including processed treatments & color. Great for itchy scalp issues. Leaves hair soft, silky, manageable, and full of body.

*FYI - Another use for this product is as a sensational Body Wash! (The peppermint hydrosol and our minty fresh essential oil blend give a mildly stimulating and invigorating sensation on your entire body!)
Free of Sulfates, Parabens, Formaldehyde, Urea, Glycols, Synthetic Fragrances, and Dyes. Cruelty-Free. Gluten-Free. Vegan-Friendly.
Features:
Gets your hair squeaky clean and manageable
Contains the mineral power of the Dead Sea
Blends over 25 good for your hair & scalp ingredients
May be used by all hair types, including processed treatments & color
Great for itchy scalp issues
Leaves hair soft, silky, manageable, and full of body.
FYI - Another use for this product is as a Body Wash

Key Ingredients & Benefits:
Dead Sea Minerals: nurture your hair and scalp, and feed it what it craves.
Bulgarian Lavender & Peppermint Hydrosol Waters: calming, balances sebum production, hydrating and anti-inflammatory, and soothing.
Organic Herbal Extract Blend: antioxidant, antibacterial, antiseptic, and astringent, improves overall wellness for hair and scalp.
Marine Collagen Peptides: antioxidant, aids with preventing breakage, improves hair follicle hydration and adds volume.
Hyaluronic Acid: natural humectant that plumps hair follicles. Aids with hydration and improves the appearance of the hair shaft.
Aloe Vera: soothes irritated scalp, aids with hair and scalp hydration, and accelerates the healing process.
MSM: boosts collagen growth, hydrates the hair follicle, shaft, and scalp, and may improve hair retention and hair growth.
Directions:
Rinse hair.
Apply product, and deeply massage into the scalp.
Leave on hair for 2-5 minutes.
Rinse with warm water.
Rinse & repeat if necessary.
Follow with our N~Credible! Dead Sea Cleansing Conditioner for...The BEST Hair Day Ever!

Ingredients: NATURAL SOAP BASE: (**COCONUT OIL, **CASTOR OIL, **HEMPSEED OIL, **COCOA BUTTER, POTASSIUM HYDROXIDE, FILTERED WATER), DECYL GLUCOSIDE, BULGARIAN LAVENDER HYDROSOL, FRESH PEPPERMINT HYDROSOL, DEAD SEA MINERAL-FUSION* EXTRACT BLEND: HIGH MAGNESIUM DEAD SEA BRINE, **NETTLE LEAF & ROOT, **HORSETAIL, **ROSEMARY, **COMFREY LEAF & ROOT, **CALENDULA, **CORNFLOWER, WILD HARVESTED NEEM LEAF, DEAD SEA MINERAL MUD, LACTOBACILLUS FERMENT (PROBIOTIC), COCONUT FRUIT EXTRACT (PROBIOTIC), LACTOBACILLUS (PROBIOTIC), ALOE VERA (50:1) POWDER, D-PANTHENOL, MSM, PROPRIETARY ESSENTIAL OIL BLEND, HYALURONIC ACID. *VIRGIN ORGANIC   **ORGANIC
ADDITIONAL INFORMATION
My mission is to help you - 'Rest Assured' that you are investing in personal care products that are Safe, Effective and Non-Toxic. Our products help with your skin-confidence as well as current and future health and well-being.
My philosophy is: 'What goes ON your body goes IN your body'! After all, it's a fact - Your skin is your largest organ.

'Discover the Aviv Difference!'™ for yourself, family, friends + our planet.
Take care of the Temple God has blessed you with. Don't Settle for Mediocre - Invest in The BEST! You ARE a Priceless Treasure.
Nurture Your Skin, Nurture Your Life
The Aviv Philosophy
We believe your personal care products should contain natural, sustainable, body and earth-friendly ingredients that allow you to maintain a youthful appearance at every stage of life. 
I have used products from Aviv Spa for several years now and every product I add to my repertoire has been fantastic! I have used everything from the concrete feet to the Lavender Lovers High Magnesium Oil, which is my current favorite(it's getting rid of my under eye bags). The products are fantastic and I am always confident that they will not harm me or our environment in any way.
Shipping
Yes, we ship all over the world. Shipping costs will apply, and will be added at checkout. We run discounts and promotions all year, so stay tuned for exclusive deals.
It depends on where you are. Orders processed here will take 5-7 business days to arrive. Overseas deliveries can take anywhere from 7-16 days. Delivery details will be provided in your confirmation email.
Product
You can contact us through our contact page! We will be happy to assist you.