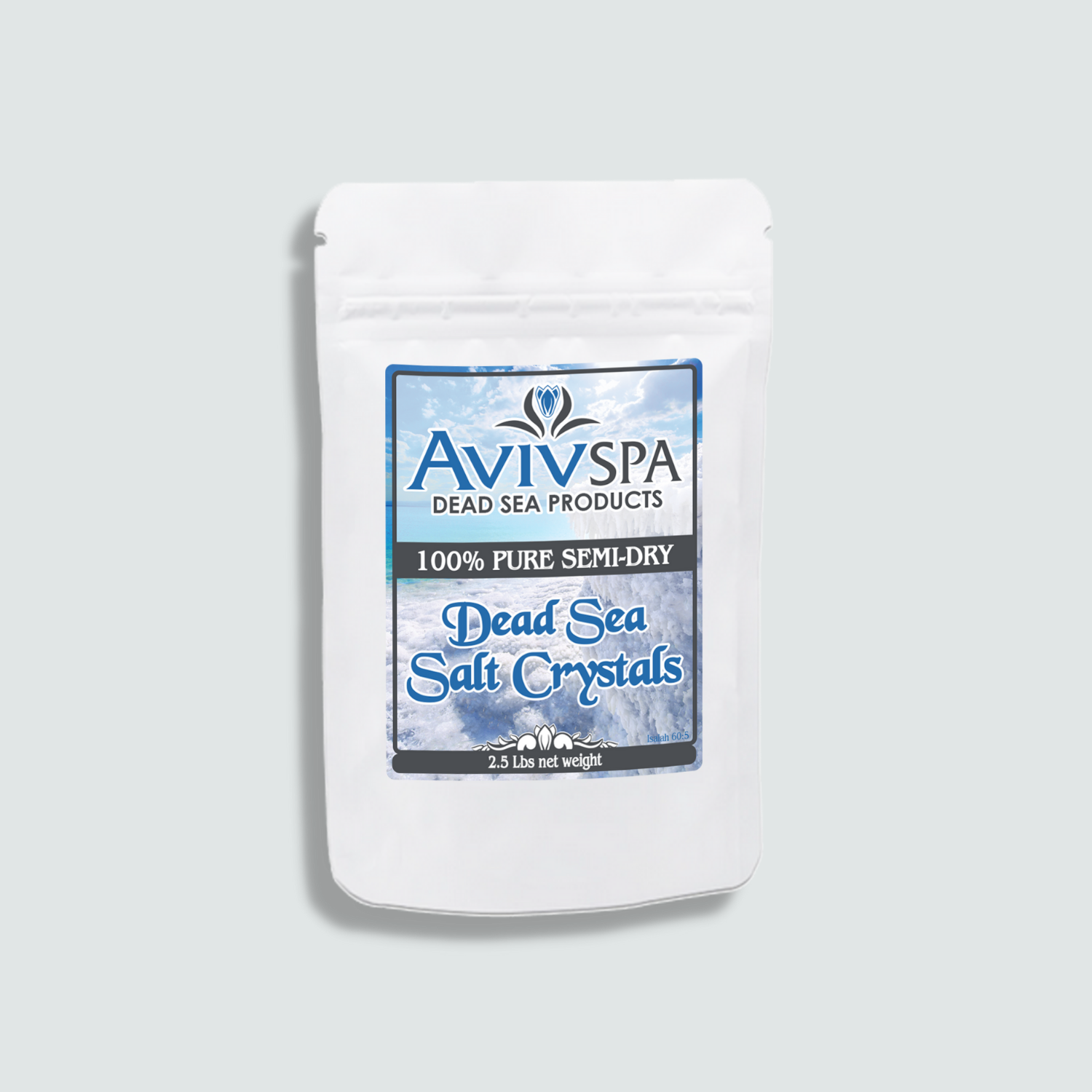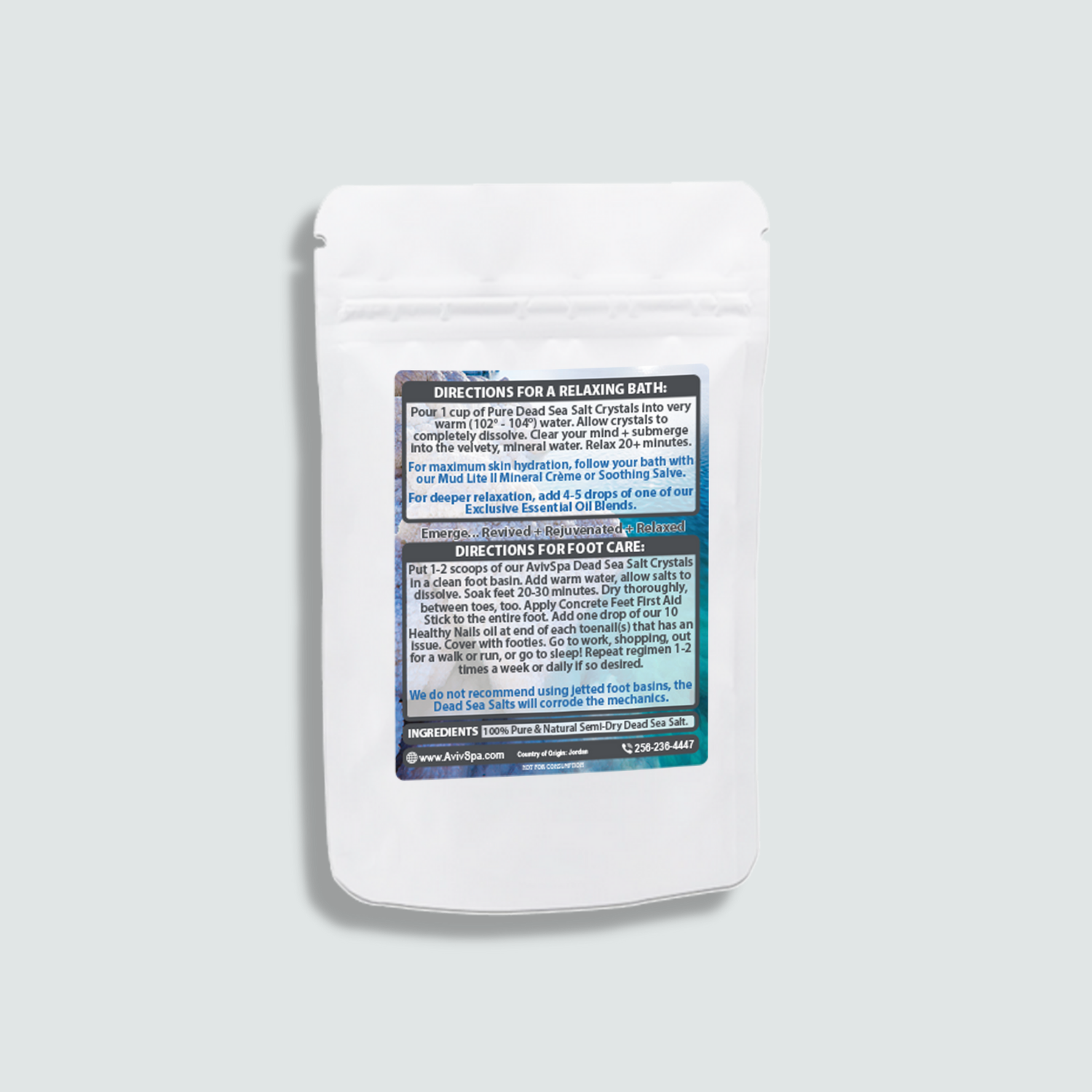 Semi-Dry Dead Sea Salt Crystals 100% Pure & Natural
DESCRIPTION
Sizes Available: 2.5lbs / 9.4lbs

Our 100% Pure AvivSpa Dead Sea Salts are 'The bomb' when it comes to a relaxing, therapeutic bath.
We import what's referred to as Semi-dry Dead Sea Salts. This type of Dead Sea Salt does not undergo a heated or drying process like most Dead Sea salts on the market today.
The semi-dry salts contain the highest content of skin-beneficial Magnesium Chloride possible. It's as if you reached under the silky, briny water and pulled the salts up from the shoreline with your bare hands. (Yes, we've been there & done that! AWESOME experience!)

Why we import 100% Pure Semi-dry Dead Sea Salts:
In 1997, our Founder & Formulator Tammy Doering was diagnosed with Fibromyalgia. After a year of being a total 'zombie' due to prescription medications, she began to pray and ask God to show her a better way to live. In her quest to find a more natural way of living she encountered numerous medical studies documenting the healing and therapeutic powers of the Dead Sea salts.
Here's one of those studies for you to read:

Dr. J. Arndt, from Germany, did a case study on the effects of Dead Sea Bath Salts on patients that suffered from psoriasis. He had fifty patients, which ranged from the ages of 14 to 77 years old. They were treated with pure Dead Sea Bath Salts in a controlled study. The treatments consisted of partial or total baths. The total baths contained 2kg (1Kgs = 2.2lbs) of Dead Sea Bath Salts and were dissolved in the bath at a temperature of 27 C(80.6°F). The partial baths consisted of a concentration of around 10% Dead Sea Bath Salts. Patients stayed in the baths for 20 minutes.
Following the bath, they rinsed well with running water. Dr. Amdt noted that the effects were enhanced when the patient remained in a warm-packed condition for one hour after the bath. (Note: in a home environment, this may be obtained by wrapping in a heavy, cotton robe or resting under blankets)

These treatments were performed for 3 to 4 weeks and consisted of 3-4 baths per week. The results showed that most symptoms of the illness diminished within one week of treatment. The most noticeable improvements were a decrease in itching, scaling & joint complaints. He also noted that the patients were able to fall asleep and remain sleeping even through difficulties. (This discovery would explain why utilizing Dead Sea Bath Salts prior to bedtime would help Fibromyalgia & Chronic Fatigue Syndrome Sufferers rest better.) Other parameters such as spreading, redness and infiltration decreased slowly. Overall, improvement was steady during the four weeks of treatments and left the patients essentially free from complaints.

Dr. Arndt points out that one of the most significant factors from the patients' point of view was the rapid relief from itching. There was corresponding relief from sleeping disturbances, which were rather widespread prior to treatment. The drastic decrease in scaling within one week can be interpreted by physicians and patients alike as further proof of the course outlined above: healing was total in 27 patients (54%), whereas in 22 cases there was a marked impressive improvement. Tolerance was excellent in all 50 cases. There were no side effects whatsoever, dermatological or otherwise. "Salt from the Promised Land Helps Psoriasis Patients", Dr. J. Arndt, Published in Arztliche Praxis, vol. 34, No. 48, 1920,(15.6.1982).

Another amazing study has been done by our very own NASA on a microbe discovered in the pure Dead Sea Salts. The research is extensive, so we've just put in the link to the study - click on it if you're interested - it's REALLY Cool to read about! The Dead Sea is actually ALIVE!

http://science.nasa.gov/science-news/science-at-nasa/2004/10sep_radmicrobe/
Directions for a relaxing bath:
Pour 1 cup of Pure Dead Sea Salt Crystals into very warm (102° - 104°) water. Allow crystals to completely dissolve. Clear your mind + submerge into the velvety, mineral water. Relax 20+ minutes.

For maximum skin hydration, follow your bath with our Mud Lite II Mineral Crème or Soothing Salve.

For deeper relaxation, add 4-5 drops of one of our Exclusive Essential Oil Blends.
Directions for foot care:
Put 1-2 scoops of our AvivSpa Dead Sea Salt Crystals in a clean foot basin. Add warm water, allow salts to dissolve. Soak feet 20-30 minutes. Dry thoroughly, between toes, too. Apply Concrete Feet First Aid Stick to the entire foot. Add one drop of our 10 Healthy Nails oil at end of each toenail(s) that has an issue. Cover with footies. Go to work, shopping, out for a walk or run, or go to sleep! Repeat regimen 1-2 times a week or daily if so desired.

We do not recommend using jetted foot basins, the Dead Sea Salts will corrode the mechanics.
ADDITIONAL INFORMATION
My mission is to help you - 'Rest Assured' that you are investing in personal care products that are Safe, Effective and Non-Toxic. Our products help with your skin-confidence as well as current and future health and well-being.
My philosophy is: 'What goes ON your body goes IN your body'! After all, it's a fact - Your skin is your largest organ.

'Discover the Aviv Difference!'™ for yourself, family, friends + our planet.
Take care of the Temple God has blessed you with. Don't Settle for Mediocre - Invest in The BEST! You ARE a Priceless Treasure.
Nurture Your Skin, Nurture Your Life
The Aviv Philosophy
We believe your personal care products should contain natural, sustainable, body and earth-friendly ingredients that allow you to maintain a youthful appearance at every stage of life. 
I have used products from Aviv Spa for several years now and every product I add to my repertoire has been fantastic! I have used everything from the concrete feet to the Lavender Lovers High Magnesium Oil, which is my current favorite(it's getting rid of my under eye bags). The products are fantastic and I am always confident that they will not harm me or our environment in any way.
Shipping
Yes, we ship all over the world. Shipping costs will apply, and will be added at checkout. We run discounts and promotions all year, so stay tuned for exclusive deals.
It depends on where you are. Orders processed here will take 5-7 business days to arrive. Overseas deliveries can take anywhere from 7-16 days. Delivery details will be provided in your confirmation email.
Product
You can contact us through our contact page! We will be happy to assist you.