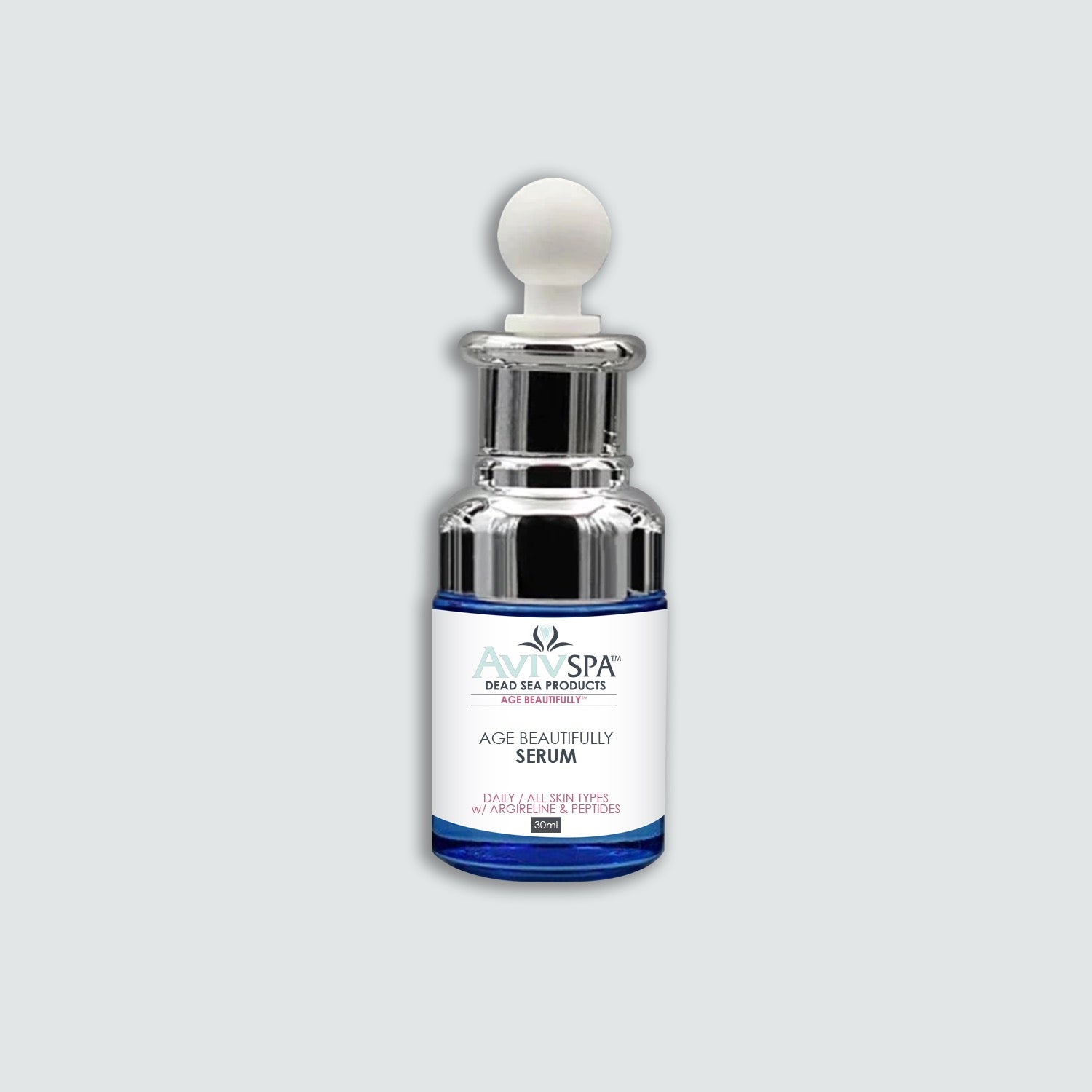 Age Beautifully™ Serum (formerly MaxTox)
DESCRIPTION
Sizes available: 30ml/50ml
Say goodbye to wrinkles, fine lines, crow's feet, lifeless, dull, drab, worn-out, and tired-looking skin with our exclusive Age Beautifully™ Serum! Our serum contains incredible ingredients that revive, rejuvenate, and restore your youthful appearance™. Here's a breakdown of our ingredients and their benefits:
Argireline NP (No Parabens): A topical anti-wrinkle ingredient that competes with Botulinum Toxin A (aka Botox) but removes the risks, injections, and high cost. The first hexapeptide shown through testing to be effective against the development of skin wrinkling. The more it's used, the more effective it becomes.

Syn®-Coll: Stimulates collagen to actively remove age-related wrinkles. Contains a tripeptide that mimics the body's ability to produce collagen. Skin-firming & moisturizing properties. Collagen degradation is reduced by expression inhibition of MMPs & cytokines.

Pepha®-Tight: Creates a noticeable instant tightening effect & smoothes fine lines. Acts preventatively as a protection shield against oxidative stress. Strengthens the connective tissue by increasing the formation of collagen-I.

Hyaluronic Acid (Vegetable Fermentation Process): A remarkable humectant that assists with deep hydration of skin cells & restores water levels, thus creating a smoother and more radiant appearance. Aids with plumping skin tissue (reported up to 300%!), therefore softening the appearances of fine lines, wrinkles, and crows feet. May reduce the appearance of Rosacea, Spider & Varicose veins; as well as dark circles under the eyes.

CO Q10 (Vegetable Fermentation Process): Boosts skin repair & regeneration. Reduces free radical damage. Penetrates skin on the molecular level. Reduces fine lines, dark circles, wrinkles, puffiness, and age spots.

Dead Sea Mineral-Fusion Extracts: Our exclusive Dead Sea Mineral-Fusion™ Extracts are custom created using certified organic, naturally grown, or wild-harvested herbs. They are guaranteed to be free of drying alcohols, petroleum by-products, pesticides, herbicides, standard water, synthetic fragrances, and harsh/toxic chemical preservatives. Our menstruum (liquid base) is our mineral-rich High Magnesium Dead Sea Brine which offers numerous natural benefits for our hair, skin, and nails! This serum contains what we call, "The Works!" Herbal Extract Blend:

Organic Helichrysum: Anti-inflammatory properties. Excellent cell regenerator. Astringent & Diuretic. Improves redness & puffiness.
Organic Olive Leaf: Improves circulation. Regenerates collagen & elastin. Aids in the healing process. Antioxidant & Detoxifier.
Organic Rosemary: Antioxidant & Anti-Aging. Antibacterial, Antiseptic & Astringent. Assists with Skin Regeneration. Aids with Toning & Softening.
Organic Comfrey Leaf & Root: Vitamins A, B Complex, B12 & C. Natural Emollient (Softens skin). An Anodyne (alleviates pain). Proliferant (increases cell growth). Vulnerary (ability to heal injuries).
Organic Calendula: Anti-inflammatory & Anti-microbial. Reduces swelling. Promotes production of collagen proteins. Minimizes scarring.
Organic Lavender: Analgesic & Anti-fungal. Encourages new skin cell renewal. Reduces inflammation. Improves blood circulation.
Organic Green Tea: Moisture binding & regulating. Tightening & toning effects. Strengthens acid mantle.
Ingredients: BULGARIAN ROSE HYDROSOL, ARGIRELENE NP, SYNCOLL, PEPHA-TIGHT. MSM, NIACINAMIDE, D-PANTHENOL, DEAD SEA EXTRACTS (**HELICHRYSUM, ** CORNFLOWER, **CALENDULA, **OLIVE LEAF, **COMFREY LEAF & ROOT, **GREEN TEA, **CHAMOMILE, **LAVENDER, **WITCH HAZEL, WILD-HARVESTED RED ROSES & NEEM LEAF), LACTOBACILLUS FERMENT (PROBIOTICS), LACTOBACILLUS (PROBIOTICS), COCONUT FRUIT EXTRACT (PROBIOTICS), WILD-CAUGHT HYDROLYZED MARINE COLLAGEN PEPTIDES, COQ10, HYALURONIC ACID. *VIRGIN ORGANIC   **ORGANIC
 Note: Container subject to change based on supplies
Disclaimer: The information provided is not designed to prescribe, treat or diagnose any type of illness or injury. It has been provided for informational purposes only. Never attempt a traditional or folk remedy before consulting with your doctor or an alternative medical practitioner if you suffer from a disease, illness or injury. Keep all products away from children and pets. As with any natural product, they can be toxic or fatal if misused. Our company, its owners and/or representatives are not responsible in any way for the misuse of this or any other product. It is solely the responsibility of the purchaser to know and understand what they are buying and how to use & properly handle the product. Although a lot of our ingredients are food quality, our finished products are NOT food grade and should never be taken internally. This product has not been FDA Approved at this time. 
ADDITIONAL INFORMATION
My mission is to help you - 'Rest Assured' that you are investing in personal care products that are Safe, Effective and Non-Toxic. Our products help with your skin-confidence as well as current and future health and well-being.
My philosophy is: 'What goes ON your body goes IN your body'! After all, it's a fact - Your skin is your largest organ.

'Discover the Aviv Difference!'™ for yourself, family, friends + our planet.
Take care of the Temple God has blessed you with. Don't Settle for Mediocre - Invest in The BEST! You ARE a Priceless Treasure.
Nurture Your Skin, Nurture Your Life
The Aviv Philosophy
We believe your personal care products should contain natural, sustainable, body and earth-friendly ingredients that allow you to maintain a youthful appearance at every stage of life. 
I have used products from Aviv Spa for several years now and every product I add to my repertoire has been fantastic! I have used everything from the concrete feet to the Lavender Lovers High Magnesium Oil, which is my current favorite(it's getting rid of my under eye bags). The products are fantastic and I am always confident that they will not harm me or our environment in any way.
Shipping
Yes, we ship all over the world. Shipping costs will apply, and will be added at checkout. We run discounts and promotions all year, so stay tuned for exclusive deals.
It depends on where you are. Orders processed here will take 5-7 business days to arrive. Overseas deliveries can take anywhere from 7-16 days. Delivery details will be provided in your confirmation email.
Product
You can contact us through our contact page! We will be happy to assist you.